Outsiders Exhibition Catalogue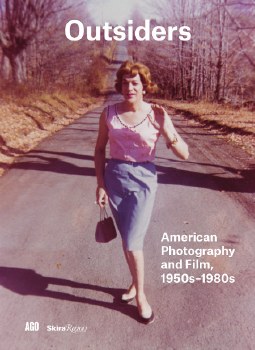 Outsiders Exhibition Catalogue
$29.95
Member Pricing: $26.96
Outsiders, a special exhibition of unforgettable images opening at the AGO March 2016, highlights photographers and filmmakers working in the United States from the late 1950s to the mid-1980s in a time of intense political and cultural turmoil.

It's no accident that artists at the time turned to photography and film - mass media then largely "outside" the realm of mainstream art and its focus on painting and sculpture- to express a broader range of human experience. Photographs by some of the greatest artists of the period - Diane Arbus, Garry Winogrand, Danny Lyon, Gordon Parks, and others including the anonymous visitors to Casa Susanna - depict musicians, cross-dressers, biker gangs, protests, press conferences, and even animals, bringing to light the complex social realities and the yearning for greater collective and individual equality. As part of the exhibition, the AGO will be presenting films by artists Kenneth Anger, Marie Menken, Robert Frank, Shirley Clarke, and others.

Curated by Sophie Hackett, the AGO's associate curator of photography and Jim Shedden, manager of publishing, Outsiders: American Photography and Film, 1950s - 1980s is organized by the Art Gallery of Ontario.