Pluck Tea: AGO Pacific Coast Blend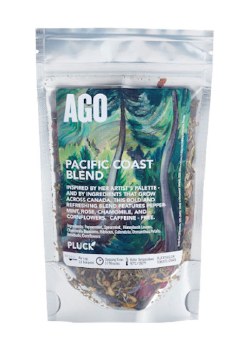 Pluck Tea: AGO Pacific Coast Blend
$10.95
Member Pricing: $9.86
Inspired by the colours of Emily Carr's artist palette, and by ingredients that grow from coast to coast.
This bold and refreashing blend features peppermint, rose, chamomile and cornflowers. Caffeine - free.

Created by local Toronto brewers - Pluck Tea. All ingredients sourced from Ethical Tea Partnership sources, local growers, artisan producers, and blended in small batches. 30g bag.

Ingredients: Peppermint, Spearmint, Honeybush leaves, Chamomile Blossoms, Hibiscus, Calendula, Osmanthus Petals, Rosebuds, Cornflowers.