Jean-Michel Basquiat x The Skateroom: Horn Players, 1983 Triptych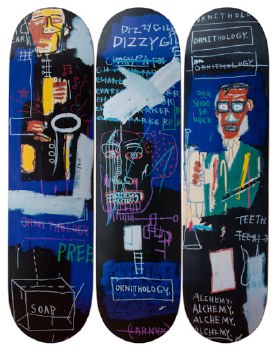 Jean-Michel Basquiat x The Skateroom: Horn Players, 1983 Triptych
$900.00
Member Pricing: $810.00
Note: This item is Special Order only, please allow 4-6 weeks for delivery.

Horn Players Triptych Set of 3 skateboards
Each deck measures approx. 31x8in (80x20cm)

Made of 7 ply Grade A Canadian Maple wood
Top-print includes printed signature of the artist
3 Easyfix wall mount included per deck

Horn Players - Open Edition
Produced by THE SKATEROOM
© Estate of Jean-Michel Basquiat.
Licensed by Artestar, New York.