Ayala Bar Hoop Earrings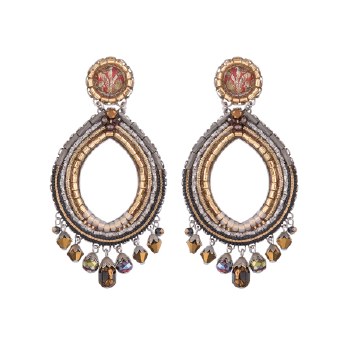 Ayala Bar: Hoop Earring - Silver Gold Drop
$253.00
Member Pricing: $227.70
Ayala's creations draw on over ten years of experience as a jeweller, and an eclectic career in theater and interior design. She draws many influences for her work from her family's heritage, blending unexpected materials to create an aesthetic that is instantly recognizable.

Ayala creates miniature artifacts. The initial collections had mosaic-like qualities to them, reminiscent of the ancient Byzantine era. Through time, her design aesthetics have increasingly reflected influences drawn from fashion and the seasons.

Ayala Bar jewellery is entirely handcrafted. Each piece is lovingly composed of non-precious metals combined with glass beads, mineral stones, fabric pieces and crystal rhinestones. All elements in these collections are nickel free, lead free and contain no hazardous materials.

Approximate Width: 1" | Length: 2.1"
Made in Tel-Aviv, Israel
Care: Clean pieces with a soft, dry, lint-free cloth. Avoid contact with any chemicals, sprays and water.