Elaine Wigle: Sterling Silver Fused Bangle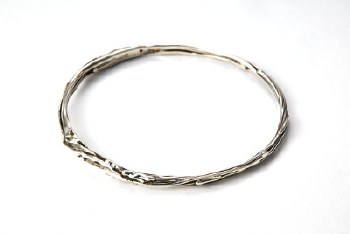 Elaine Wigle: Sterling Silver Fused Bangle
$123.00
Member Pricing: $110.70
Sterling Silver
Approximately 2.5 inches in diameter
Location: Rossland, British Columbia

Starting with the raw materials of silver wire and sheet and a rich palette of stones, fossils and pearls, a Wigle Design piece is made solely by hand.

Each piece is an original Wigle Design. From the smallest jump ring to a custom Wigle design clasp, each component of the whole is created with an exacting eye for detail and to it's contribution to the overall design.

Over the years, Elaine Wigle has developed several distinctive signature lines. Her most recent work is noted for it's marriage of the raw beauty of the materials to the sophisticated yet organic flow of the metal smithing and highlighted by stunning colour combinations.